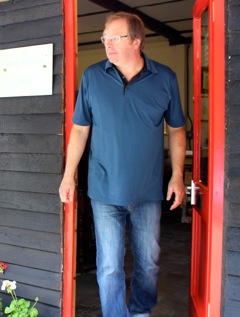 Tony Sandles –
Artist & Craftsman
Just one day after the 1987 hurricane the Tony Sandles Stained Glass studio opened in South London.
Helped along by the late 1980's property boom Tony was soon making and restoring stained glass windows and leaded lights for a wealth of Victorian and Edwardian villas in and around Crystal Palace.
In 1995, the business moved to Clerkenwell. Working alongside other artists, Tony gained valuable insights into the making and installing of large stained glass windows designed by prominent glass artists such as Patrick Reyntiens, Graham Jones and Brian Clarke. Being based in central London gave access to a new clientele of architects, interior designers and high-end residential customers. 
A re-location in 1997 to rural North West Essex provided larger studio space to house the equipment to take on commercial projects. As well as developing a new local client base leading to commissions in listed buildings and churches, Tony maintained and fostered his links with London based interior designers, creating a wide variety of custom made glass, furniture, sculptures, kiln-formed and sand etched screens.
By 2008 commissions were varying greatly in character and ever increasing in size. The term stained glass dropped out of the lexicon when the company Tony Sandles Glass Ltd was formed.
Having outgrown the premises in Great Chesterford the company celebrated its 25th anniversary in 2012 by moving into a nearby purpose built studio in Wimbish, Saffron Walden.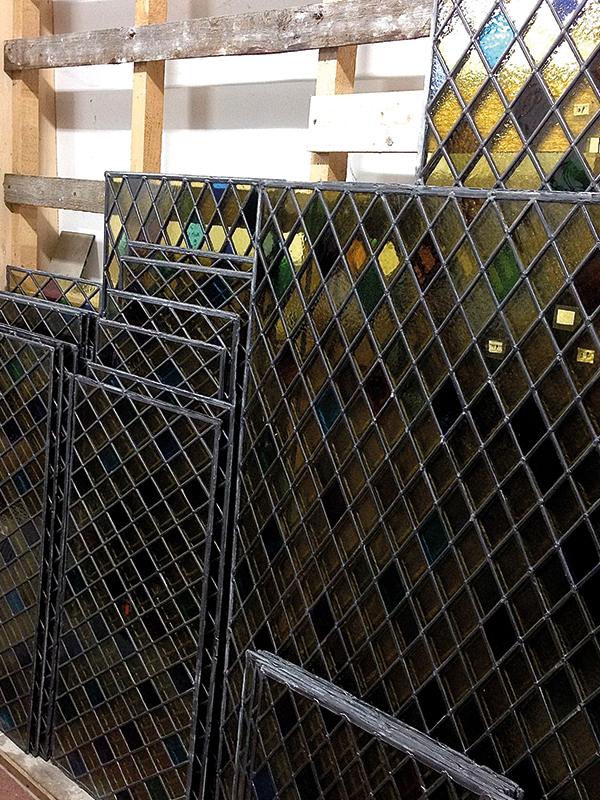 In July 2014 Tony participated for the first time in the Cambridge Open Studios event, with essentially a retrospective exhibition. Please see below a virtual tour of the studio from a visitor's perspective made as a video by Oliver Sandles, including a time-lapse work in progress.
As an innovative and practical glass artist who is attuned and responsive to current interior design trends, Tony is constantly evolving his repertoire of techniques. Vintage and distressed silver mirrors are much in demand back painted with copper and zinc hues. Using silver and gold leaf to create verré eglomise glass produces panels with a subtly distressed appearance. Experimenting with kiln formed glass which results in obscure and aesthetically appealing textured surfaces, Tony has found that by silvering it, another dimension is added, further distancing it from silvered flat factory glass. After a gap of over ten years, Tony has dipped back into making architectural glass and furnishings, this time 'antiquing' cast glass for use as cornices and columns with bevelled mirrors antiqued to match, creating ethereal mirrored rooms.