Techniques
We have invested in a range of equipment in our light and spacious studio to enable us to produce in-house a variety of glass art, created by dipping into a palette of techniques.
We make antique mirrors creating aesthetically pleasing patination from lightly foxed vintage evolving to dark moody industrial. Using textured glass and a range of RAL paints for backpainting our distressed mirrors possess character and individuality.
We work in partnership with a glass works to create a variety of cast glass by pouring molten glass into bespoke shaped moulds. These forms are then cut to size, ground and polished, and then antiqued silvered.
Responding to contemporary interior trends we have developed a palette of enriched metallic-leaf colours in addition to our use of silver and gold leaf. Working closely with our customers we can supply bespoke mirror finishes to complement their interiors, featuring burnished metals including copper, bronze, gold and zinc.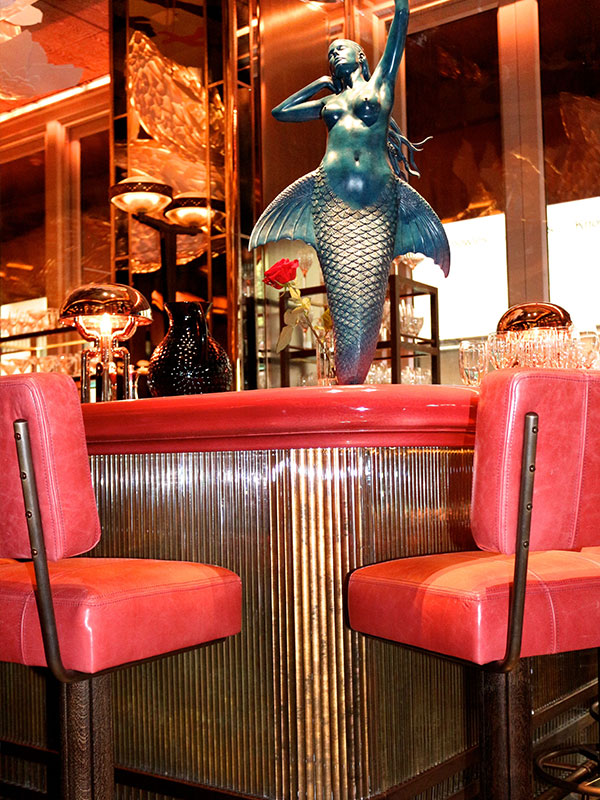 From Stained Glass to Antique Mirrors
Painting on the reverse of the glass we transcribe our client's choice of image prior to gilding with silver or 24ct gold. Glamorous Verre Eglomisé panels or screens can be produced in this way decorated with, for example, botanical illustrations or art deco designs. The finish is softly reflective but can be gently distressed for a foggier, vintage appearance.
Geometric designs and logos require more precision which we would transfer to a computer-generated vinyl resist to ensure a perfect reproduction onto the glass sand etching by hand. The engraved lines can be coloured with paint prior to gilding.
Clear mass-produced glass sometimes doesn't cut the mustard when used on a project with reclaimed oak furniture and frames. We can advise on kiln-forming stock sheets of glass to produce obscure and subtle textures.
We like the challenge of making unique pieces, imaginatively blending skills with flair and a high level of craftsmanship. Our clients benefit from a wealth of expertise accumulated over more than 30 years with roots in the craft of traditional stained glass design encapsulating rich colours with their inherent luminosity.
Antiqued Mirrors
Creating mirrors by the alchemy of applying chemicals to any type of glass – clear, coloured, plain or textured, with very interesting results. We can create mirrors with a range of distressing from a lightly antiqued effect to very heavy patterns with a distribution over the entire surface or more concentrated in one area. For example, the edge of the mirror can be heavily antiqued whilst the centre stays more reflective.
Antiqued Cast Glass
We work in partnership with a glass works to create a variety of cast glass forms by pouring molten glass into bespoke shaped moulds.
These forms are cut to size, ground and polished, and then antiqued silvered, to be used to create semi-relief panelling for entire mirrored rooms.
Kiln-forming
Kiln-forming is the creative manipulation of glass using the heat of a kiln. There are number of different techniques, but the three most commonly used are:
Fusing: the joining together of different pieces of glass by melting them together to become one piece of glass. Abstract and pictorial designs can be created with a mosaic of coloured glass, frit and powder being fused together usually on a base glass.
Kiln-forming: creating a pattern in the glass by allowing it to soften enough to take on the texture of the bed of silica/sand on the floor of the kiln.
Slumping: bending or shaping a piece of glass (possibly already fused) on a ceramic or steel mold such as a plate or bowl or a similar object.
Silvering
We have perfected a method of producing in-house silver textured glass, by using our own kiln-formed glass. The surface can be gently dimpled to emulate hand blown glass or extravagantly textured for a more dramatic effect.
Sand-etching / Carving
Decorative motifs and lettering can be etched onto the glass surface by first creating the design onto vinyl which is stuck to the glass to act as a mask, with sections removed to reveal the glass. A sand blaster is used to abrade the surface with aluminium grit to permanently etch the face of the glass.
Carving into the glass is achieved by blasting with high air pressure. By removing areas of the resist sequentially, varying depths of etching can be achieved to add a sculptural beauty to a panel.
Stained Glass
A technique which has changed little since the early Mediaeval period.This generic term is usually applied to traditionally made leaded windows using pieces of clear or coloured glass cut to size over a cartoon and held together with lead cames, soldered at the lead junctions and strengthened with a waterproofing lead-light cement.
Detail is added by painting and silver-staining, which needs to be made permanent by kiln-firing.
Specialist Back-lit Panels
Created in collaboration with a lighting designer using tiny computer controlled LED lights set behind panels of heavily antiqued mirror glass, sealed with a clear lacquer and a diffuser panel to soften and spread light. A variety of lighting programmes can then create swirling waves of light washing across the glass, bursts of pulsing light, or any other combination depending on the mood setting required.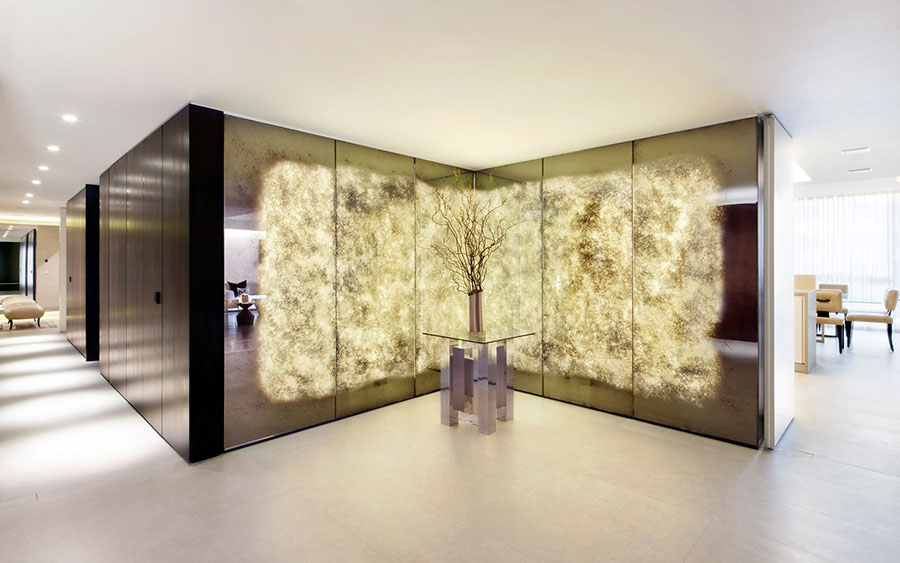 Verre Eglomisé
The art of decorating glass by reverse painting and applying silver or gold leaf.
The metal leaf is adhered using a gelatin adhesive, which results in a mirror-like, softly reflective surface. The gilding can be combined with engraving and reverse painting techniques to create rich, shimmering pieces of artwork.
The technique dates back to the pre-Roman times, but its name is derived from the 18th century French decorator and art-dealer Jean-Baptise Glomy (1711–1786) who is responsible for its re-popularization.
Silver/Gold leaf mirrors
Laying squares of precious metal leaf, butting each leaf together with its neighbour, onto the back of the glass with a gelatin size. The careful positioning gives a characteristic faint grid pattern to the panel. When completely dry, the leaf is burnished to bring a soft mirror shine when viewed from the other side. The leaf is then sealed to prevent tarnishing.
Further decorative effects can be achieved by gently distressing the leaf to allow back painted colour to show through. This is particularly effective when a less reflective appearance is required, giving a silky look to the glass.